LATEST NEWS
Street Crane to help build the next generation of rail vehicles
Street Crane has installed nine overhead cranes at Hitachi Rail Europe's new train factory at Newton Aycliffe, County Durham. Forming part of an £82m investment in the facility, the cranes are being used to help manufacture a mix of up to 35 metro, commuter and high-speed intercity trains per month.
Two special 40-tonne overhead cranes have been supplied to offload train carriages, which are made off site. These are fitted to high-lift bogies, which enables them to be safely and easily moved around the factory. The high-lift system has allowed additional equipment to be installed underneath the crane operation area. Street has also supplied fixed gantries along the production lines so that technicians can easily access the carriages for fitting out.
A further seven cranes with the capacity to lift 10 or 15 tonnes have been fitted to bring materials and components to workstations around the facility.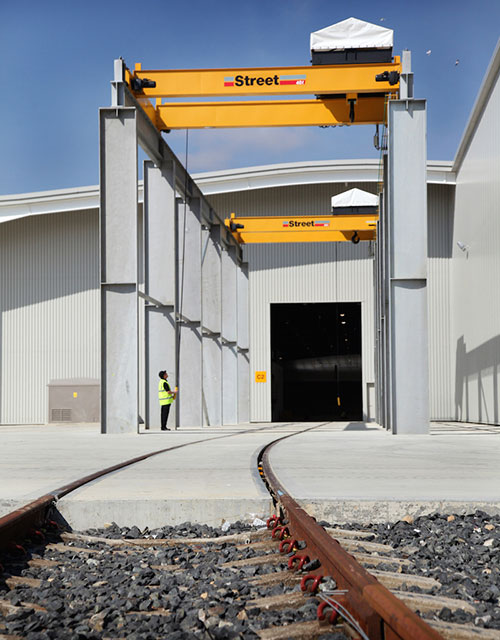 Chris Lindley-Smith, sales director at Street Crane said: "This contract was time critical so we had to work closely with the main contractor, Shepherd Construction, to manufacture and deliver the cranes within the required delivery schedule. This meant fitting the crane beams before the roof was added to the building and ensuring that they were protected from the weather.
"As production deadlines are critical in the rail industry, it is essential that the cranes are as reliable and safe as possible, so the crane speeds have been optimised for efficient product flow and to ensure load safety and stability. We have also provided anti-collision systems where multiple cranes share the same track and an all-weather paint system for the outside cranes gives extra protection against the elements. "
All the cranes are of double box-girder construction and deploy Street's advanced ZX hoists for reliable lifting performance.
Employing more than 700 people, Hitachi's Newton Aycliffe facility opened in September 2015. The first trains will leave the factory in 2017 for the Great Western Line.