ARCHIVES
2018
2017
2017
2016
Heavy Lifting
16/01/2017
From workshops and manufacturing plants through to railways and bridges, overhead cranes play a key role in boosting efficiency across a broad range of industries in both the private and public sector.

Chris Lindley-Smith, Sales Director at Street Crane, discusses the growing demand for more efficient cranes and how new technology is improving safety and productivity.

Factory expansions, investments in infrastructure and an overarching need to make operations more productive, means that the demand for overhead cranes remain high both in the UK and across the globe.

Speed, efficiency and safety also remain top priorities for the end user, which means crane manufacturers must invest in research and development to ensure their products keep up with the pace of UK industry.

Driving down costs

Contractors and engineers who need to source overhead cranes can now benefit from more standardised products, which have been designed to reduce costs but maintain performance levels. Variable Frequency Drive (VFD) technology for example now comes as standard on many crane systems.

VFD drives provide a fully programmable solution allowing the end user to adjust crane speeds to suit the application. Controlled acceleration and deceleration times minimise load swing compared with traditional two speed drives. VFDs can also be integrated with Street Crane's anti-sway software providing a high level of load control and virtually eliminating load swing.

Standardising products also means that cranes can now be manufactured and delivered far quicker than ever before. It is now possible to make and deliver a bespoke crane from scratch in just four weeks - ten years ago this would have been unheard of, but in today's fast moving world this is a common requirement.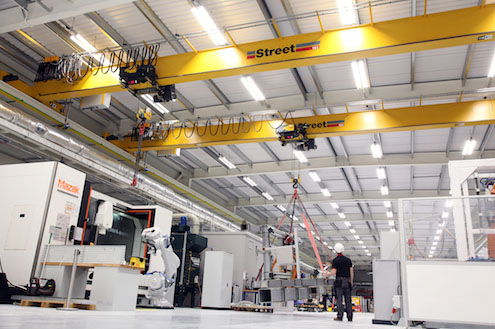 Improving safety and efficiency

However, demand isn't just driven by price and delivery. Safety and efficiency are paramount and these requirements are resulting in new mechanical and technological developments.

These include advanced wire rope hoists which have been designed to work regularly and reliably with minimal downtime for scheduled maintenance. These feature fully enclosed hoist and travel transmissions with oil-bath lubricated gears and gearbox braking as standard. Compared with open gearbox systems, these are less likely to suffer any advanced wear and tear no matter how intense the operating environment.

Where multiple cranes are used in the same bay, anti-collision and proximity limit switch systems are frequently installed.

Crane radio remote controls are also becoming very popular as they enhance safety by allowing the crane operator to select the position that gives the best view for lifting, moving and load placement.

Smart technology and semi-automation

Furthermore, advances in technology is leading to new equipment that prevents any dangerous lifting, including side pulling which is one of the biggest misuses of cranes. If an operator tries to lift a load and the hook is at an angle, then the load will swing. New technology is now available that stops the hoist operating if it detects that the hook or load isn't purely vertical.

The use of semi-automation is also on the up. Although automatic storage and retrieval has existed for some time, customers are starting to ask for semi-automatic applications on standard cranes. This technology enables the crane to automatically travel to the right area before the operator lowers it under manual control.

Safe working periods

Companies are also seeking more information about how their crane is being used in line with the latest health and safety legislation, which requires operators to know that a crane is being operated within its safe working period.

This is driving demand for Safe Working Period (SWP) monitors with people now asking us to fit these as standard. These monitors log data about the cranes use and calculate how much operational time is left before it should be overhauled or replaced based on its duty rating. This avoids crane overuse which affects the mechanisms and structures, making the system less reliable as well as potentially unsafe.

Continuous improvement

Production facilities, warehouses and infrastructure projects will always benefit from overhead cranes but crane manufacturers must continuously improve to ensure their products meet changing demands and pressure to both build and operate faster. From the development of low maintenance hoists through to smart technology features, crane manufacturers have a vital role to play in improving both the efficiency and safety of operations no matter what size they are or which industry they're serving.

This article first appeared in the January 2017 issue of Construction and Civil Engineering magazine.