ARCHIVES
2018
2017
2017
2016
How to boost productivity with the right lifting equipment
16/10/2017
No matter how small or large an operation, selecting the right lifting equipment plays a vital role in boosting productivity.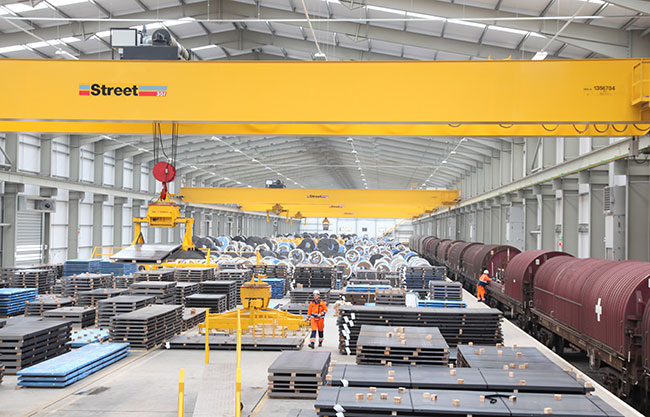 Assess your lifting processes

The starting point for safe and efficient product handling is to perform a risk assessment to establish a procedure for all lifting operations. This should include equipment type, ensuring it is safe and fit for purpose, as well as other key aspects such as slinging methods.

This approach to safe and efficient lifting is more important than ever right now with IS09001:2015 almost upon us. By the end of 2018, all factory operators must be able to demonstrate that there are procedures in place for their operations to achieve the latest quality standard. The standard will also require more involvement from all business stakeholders, including factory management and staff members. The advantage of these changes is that active quality can improve business efficiency including the suitability and type of lifting equipment used.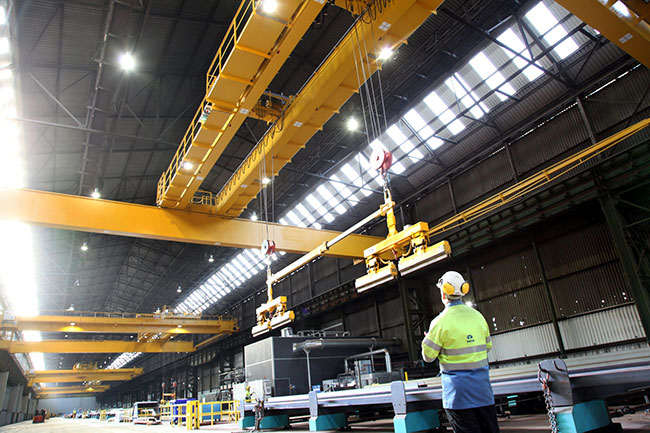 Confirm the crane duty rating

The iron and steel industry commonly uses overhead cranes to meet their production demands for high speed and the best performance in demanding and heavy duty applications.

When choosing an overhead crane, crane utilisation is a vital consideration as this defines how much the crane will be used throughout its working life. A crane supplied without taking this into account may mean that the mechanisms and structure become overused which can dramatically reduce life expectancy and reliability.

Combined information about the daily number of lifting operations and loading spectrum is used to determine the 'crane mechanism duty rating and structural classification'. This establishes what crane mechanisms and structural design are required for the crane to operate reliably and safely for a specific length of time – this is known as the Design Working Period or Safe Working Period (DWP or SWP).

Different duty ratings can affect the selection of all moving parts such as transmission components, wheels, hooks, wire rope and also structural elements so it is essential that these are fully understood before purchasing a crane.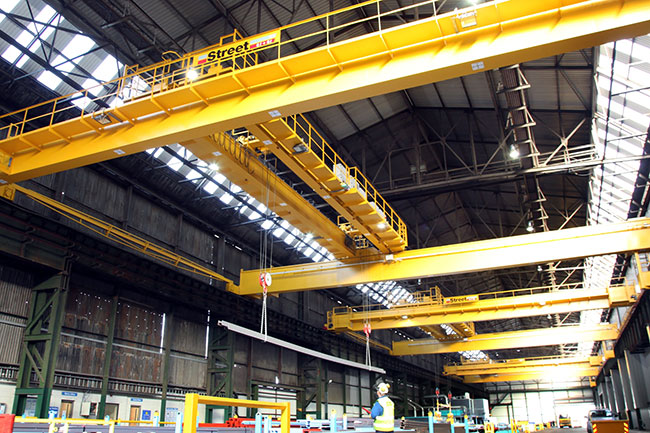 Customise

Every production process is different so operators must ensure that the crane system is manufactured to meet their individual requirements and optimise efficiency. From simple load spreading beams through to the use of bespoke handling equipment, including features such as multiple lifting hooks, rotating hooks and multispan structures, there is a wide range of options available.

Add safety features

Another key requirement of an overhead crane operation is safety, which in turn helps to minimise downtime and improve performance. Whether the lifting capacity is 5 or 500 tonnes, it is essential that there are measures in place to minimise risks for the operator.

For larger lifts when multiple cranes are used in the same bay, anti-collision and proximity limit switch systems should be installed. Crane remote radio controls are also becoming an almost standard option as they enhance safety by allowing the crane operator to select the position that gives the best view for lifting, moving and load placement.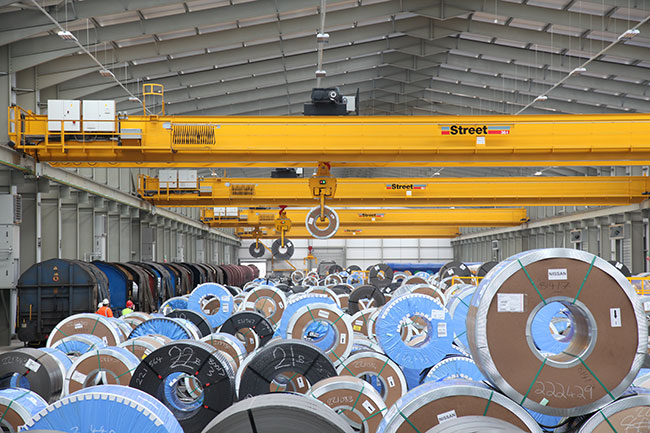 Minimise maintenance

Cranes and hoists have been used for decades, but advances in technology have seen their design change significantly, which means they are now far easier to maintain.

Street wire rope hoists for example, have been designed to work regularly and reliably with minimal downtime for scheduled maintenance. These feature as standard fully enclosed hoist and travel transmissions with oil-bath lubricated gears and gearbox braking. Compared with open gearbox systems still used on many other new cranes, these are less likely to suffer any advanced wear and tear no matter how intense the operating environment.

Efficient, safe and reliable lifting equipment is essential for the iron and steel industry. Working with a crane manufacturer to customise a crane, incorporate the latest technology and make sure it is fit for purpose, will ensure the equipment performs to the highest standard and boosts productivity.

This article first appeared in the August 2017 issue of Iron and Steel Today.